You want to trade cryptocurrencies but have a limited amount of capital to work with? What if you could leverage your long and short positions on Bitcoin or other cryptos by 2X, 10X or even 100X, without having actually to hold the capital required in order to open such positions?
This article will be talking about the crypto margin trading guide. In this guide, you will learn what margin trading in Bitcoin and cryptocurrencies is, how does it work, top exchanges enable margin trading, and most importantly – you will learn must-read tips before placing even the smallest margin position.
What is Bitcoin Margin Trading?
In Simple Words,Bitcoin margin trading, Considered to be one of the most profitable and riskiest trading, margin trading allows you to trade with leverage by borrowing funds from the exchange.
We have to do to get started is sign up for one of the exchanges and activate your margin trading account.
Next, you can apply for a loan on the platform and trade using the borrowed fund you receive.
For example, if you opened a Bitcoin margin trading account with a 2X leverage but the Bitcoin increased by 10%, your position will yield 20% profit because of the 2X leverage. With no leverage, it would have been only a 10% ROI.
Margin leverage can also be as high as 25X and more but with higher risks. The same position will now yield 250% (instead of 10% with no leverage).
Crypto Spot trading is the Most Basic Form of Crypto Investment, in spot trading crypto is instantly exchange between active market participants who are selling and buying the coins, buy and sellers mutually agree on a bid offer, the spot trade is completed, allowing the buyer instant ownership of the crypto. Even beginners can participate in spot trading as they can buy crypto with fiat currencies on exchanges and enter a position.
Crypto Margin Trading is more of a form of trade, similar to performance speculation crypto assets, the trader must offer collateral commitment, known as the margin, Bitcoin margin trading requires users to borrow funds from a third party, making this form of trading more suitable for advanced or intermediate market participants. The borrowed funds for spot trading are provided by other market traders in exchange for interest based on market demand for margin funds.
Best Bitcoin & Crypto Margin Trading Exchanges
Exchange
Pros
Rating
FREE $100
Binance Futures
Binance-branded productHigh trading volume and liquidityIndustry-Leading Security (SAFU insurance fund)Futures & Perpetuals. Max margin 125x
98
Visit site
$100 voucher
10% OFFBitMEX
Veteran exchange – trading since 2014User-friendly interfaceHigh liquidity and trading volume for perpetuals and futuresFutures & Perpetuals. Max margin 100x
97
Visit site
10% off fees
$2K BonusPhemex
Sufficient cryptocurrency trading pairs and liquidityIntuitive and easy-to-use interfaceQuick order execution engine and a secure platformFutures & Perpetuals. Max margin 100x
96
Visit site
Up to $2K Bonus
Bybit
Great UI/UX, extremely intuitive platformHighly responsive support teamReliable and highly-secured platformPerpetuals. Max margin 100x
96
Visit site
Huobi Futures
Simplified trading interface with a variety of features, veteran exchangeOne stop shop for trading futures, options, and perpetual swapsAn abundance of trading pairs to choose fromFutures, Options & Perpetuals. Max margin 1000x
96
Visit site
50% BONUSPrimeXBT
Not limited to crypto: Includes FX, commodities, indices and moreAdvanced trading tools, fully customize your trading dashboardSafe to trade: So far, never been hackedFutures & Perpetuals. Max margin 100x
91
Visit site
50% Deposit Bonus (code: POTATO50)
Kucoin
Futures
User-friendly interface with seamless navigation across the boardSecurity and stability of KuCoinLite version availableFutures & Perpetuals. Max margin 100x
86
Visit site
ApolloX
Intuitive trading interfaceSufficient order typesLiquidation insurance fundPerpetuals. Max margin 100x
85
Visit site
Delta
Exchange
Simple and intuitive trading interfaceVariety of different cryptocurrencies and trading pairsBoth traditional futures contracts and perpetual are available for BitcoinFutures & Perpetuals. Max margin 100x
85
Visit site
BaseFEX
User-friendly trading interfaceLarge variety of cryptocurrencies available for trading24/7 Live Chat supportFutures & Perpetuals. Max margin 100x
83
Visit site
Poloniex
Veteran exchange – trading since 2014Margin variety, Bitcoin perpetual futuresUser-friendly interface, great UI/UXDerivatives. Max margin 2.5x
83
Visit site
Plus500
Well-known and regulated CFDs exchangeGreat option for beginners: Demo account availableIndustry-Leading FX brandCFDs. Max margin 30x
82
Visit site
Currency
Not limited to crypto: tokenized shares availableIntuitive trading platform with splendid UXRegulated exchange (Gibraltar licensing)Derivatives. Max margin 20x
81
Visit site
Bitfinex
High volume & liquidityVariety of coins and base assetsVeteran exchange – trading since 2012Derivatives. Max margin 3.3x
77
Visit site
XENA
Low latency for fast order placement and response timeAdvanced trading indicatorsCompetitive feesPerpetuals. Max margin 100x
71
Visit site
Is Crypto Margin Trading Safe?
Since margin trading is risky, hence, it's not recommended for beginners in crypto trading, we had gathered some must-read trading tips:
Margin Trading Tips: Read Before You Trade
Always start trading with small amounts: First-day margin trading? then always start small. Get the necessary confidence you need before jumping into the deep raging water of the leveraged trading.
Don't go all-in at once: Unless you're sure about your trading skills, it's better to divide your position into portions, and create a ladder of prices. This way, you can reduce the risk while averaging down the entry price of the position. The same is true for taking profit. You can set-up a ladder of take-profit levels.
Understand fees and liquidations: Always know how much you are paying for fees and what type of fees you are paying. Trading on margin carries ongoing fees, make sure they don't eat up your profit. The same is true for the liquidation price; you should know that number in case the position is reaching there.
Risk Management: When trading on margin, set clear rules of risk management, beware of excessive greed. Take into account the amount you are willing to risk, keeping in mind that it can be lost entirely. Set levels for closing positions, taking profit levels, and the most important – set up stop-loss levels.
Price manipulations and short/long squeeze: In an unregulated market like Bitcoin, it's not rare to see occasional short and long squeezes. When the number of short or long positions is high, it means that a market mover can make easy money when creating an opposing price move, forcing those positions to liquidate (and push the price even more in that direction). The following image describes a classic event of a long squeeze followed by a short squeeze. a classic manipulation of the Bitcoin price.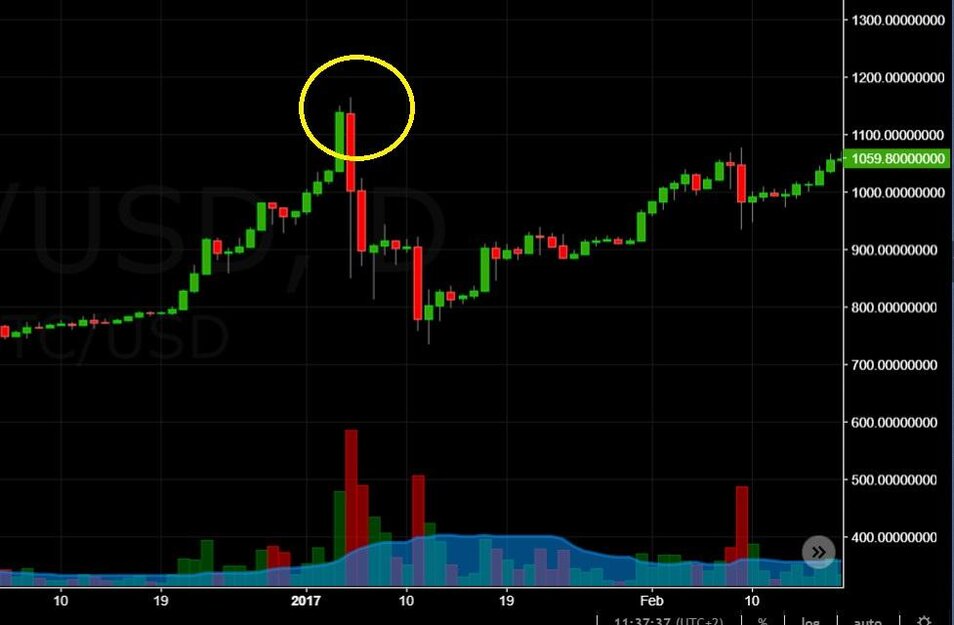 The benefits of leveraged trading are very clear, and another significant benefit comes from the security aspect. But even the best margin trading bitcoin platforms are a risk. If you're new to cryptocurrency and crypto trading, and you'd like to margin trade cryptocurrency, start by doing plenty of research. Compare the fees and features as well as the pros and cons of various margin trading platforms to find the one best suits your needs.
Costs and Risks of Crypto Margin Trading
As mentioned above, the cost of the margin position includes paying the ongoing interest for the borrowed coins, and fees for opening a position with the exchange. As the chance to earn more increases, so does the risk of losing more.
The maximum we can lose is the amount we invested in opening the position. This level is called the liquidation price. The liquidation price is the price where the exchange automatically closes our position, so we don't lose any of the money we were loaned and only lose our own money.
Example: if we are talking about standard trading, leverage 1:1, the liquidation price is when the position reaches a value of zero. As the leverage increases, the liquidation value will get closer to our buying price. For example, If the Bitcoin value is $1,000, and we bought one Bitcoin (long) with leverage of 2:1. The cost of our position is $1,000. Besides, we have also borrowed a further $1,000.
The liquidation price of our position will be a little over 500 USD – because, at that level, we lose exactly our initial $1,000, plus interest and fees. Margin trading can also be against the market, so we can also have a short position with leverage.
High leverage risk: The higher the leverage, the closer the liquidation price is. The rule here is dividing 100 by the leverage level will grant you the percentage until you reach the liquidation price. Example: a positive with 1:25 leverage needs only a 4% move (100 divided by 25) to get liquidated. 4% can be achieved quickly in the volatile crypto markets.
It is now possible to trade margin on most exchanges. The advantages of leveraged trading are very clear, and another significant benefit comes from the security aspect. Crypto traders should strive to minimize the number of coins they hold on exchanges. Exchanges are considered hot targets for hackers, and in recent years there have been several hackings of exchanges, including hacks of the major exchanges too.
Trading on margin allows us to open leveraged positions with no need to provide the Bitcoin required; that way, we can hold fewer coins on the exchange account.
PrimeXBT Special Offer: Use this link to register to receive up to $7,000 on your deposits.